There couldn't have been better conditions over the weekend, the sun was shining and a good chill in the air, and lots of talent at the Sun Valley Invitational at the Lake Creek Nordic Center in Ketchum as more than 400 athletes gathered for the chance to showcase their talents.
Against elite Nordic skiers who have crossed the United States and beyond, Rosie Brennan of Alaska Pacific University Nordic Ski Center topped the field on both days as the Olympic team member American won the women's 5k individual freestyle on Saturday and the classic mass 10k. on Sunday.
In Saturday's individual free trial, Brennan won with a time of 14 minutes, 28.6 seconds, and easily won Sunday's classic mass with a time of 29 minutes, 35.3 seconds. Neither day seemed like much competition for Brennan, especially Sunday when she was nearly a full mile ahead of second place Katharine Ogden off SMS T2 (30:30.7).
"I wanted to start strong because that's how it's going to be at the Olympics," Brennan said. "I came out strong and tried to hold it. It becomes a mental game at that point, and I keep pushing myself. Running courses like this at altitude never feels good, and you need to trust the training plan and keep pushing forward.
The 3.7 kilometer loop at Lake Creek Racecourse has been extended to give the feel of a real World Cup venue. The difficulties of the course were shared by all participants in the competition, and the host, the Sun Valley Ski Education Foundation, went to great lengths to bring this challenging course to life. The men's race was four laps and the women's race three. Throughout the weekend, 120 volunteers contributed to the smooth running of the event.
Sunday's mass start was the highlight of the weekend, and Brennan's team (APU Nordic) sometimes overshadowed the rest of the field. On the men's side of Sunday's 15k Mass Classic, APU swept the podium with David Norris (36:50.5), Hunter Wonders (36:58.5) and Scott Patterson (36:59) finishing first, second respectively and third.
The APU men were on point all weekend as they had six top-30 finishers on Saturday and five top-30 finishers on Sunday.
Another team that had success was the University of Utah women's team, the top collegiate team on Sunday, sweeping the top three spots for varsity teams. Novie McCabe (30:42.9) took third place overall, Sydney Palmer-Leger (31:01.7) took fifth place overall and Sophia Laukli (31:02.5) took sixth place .
"Our team is strong this year," Palmer-Leger said. "It's amazing to race with Novie and Sophia and our whole team. We have amazing coaches in Salt Lake City, and we're getting super fast.
Palmer-Léger was strong all weekend as she was also the top athlete in the U20 category on Saturday and Sunday. For Saturday's Individual Freestyle, she clocked 15:56.1. For Palmer-Leger, it was nice to return to a course she spent three years on at SVSEF.
"It's fun to come back and see some of the coaches I worked with at SVSEF," added Palmer-Leger. "It feels like home. It's amazing to come back and race with some of the best in the world. It was a tough course, the mass start was fun because you can get some recovery and push the climbs , then it's all over in the last lap and the sprint to the finish.
Staying with the women, Boise native and SVSEF Comp skier Sammy Smith showed off her prowess among the older female skiers. Smith was the top – and only U18 skier – in the senior women's and U20 field, finishing sixth overall on Saturday (15:56.1) and eighth overall on Sunday (32:04.2).
"The competition is about as high as it gets," Smith said. "It's a great course and I love the Sun Valley races because they're hilly."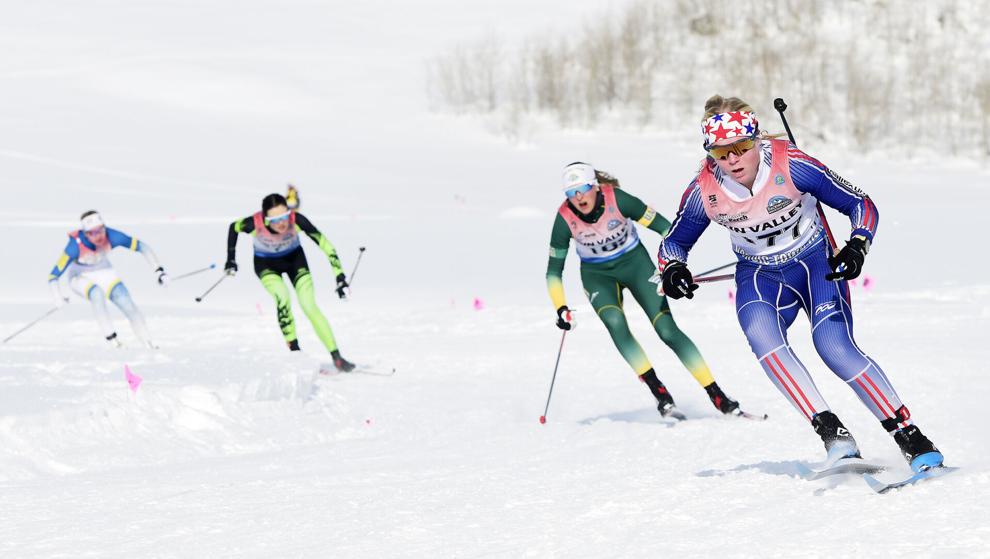 Hagenbuch wins Saturday's Freestyle
SVSEF XC Gold Team skier Johnny Hagenbuch was the top skier on the men's side of Saturday's individual 10km freestyle with a time of 26:15.4.
Saturday's staggered start had the racers up against the clock with skiers starting once every 30 seconds. When finished, the exhausted Hagenbuch was unaware of his time, which was not posted until later that day.
"It was a really tough course," Hagenbuch said. "I collapsed on the last climb, so we'll see if I made it. Climbs are always going to hurt you. It's a battle of attrition.
Hagenbuch barely managed it, passing APU's Wonders, who took second place (26:28.7). Bernhard Flaschberger (26:42.5) completed Saturday's men's top three.
Exercising most of his energy on Saturday, unfortunately, Hagenbuch didn't enjoy the same success on Sunday as he fell to 18th place overall in the 15k Classic with a time of 38:40.2.
The most consistent SVSEF XC Gold skier was Peter Wolter, who finished 10th on Saturday (27:27.7) and 11th on Sunday (37:43.3). Sunday's finish also made him the best SVSEF male of the day.
"It's great to ski here," Wolter said Saturday. "You want to push as deep as possible to get over the top of the hills because you can gain a lot more speed, but it's worth it."
Wolter – also skiing at Middlebury College in Vermont – added that it was interesting to watch other skiers race the Lake Creek course.
"It's fun to be an insider on this course," he says.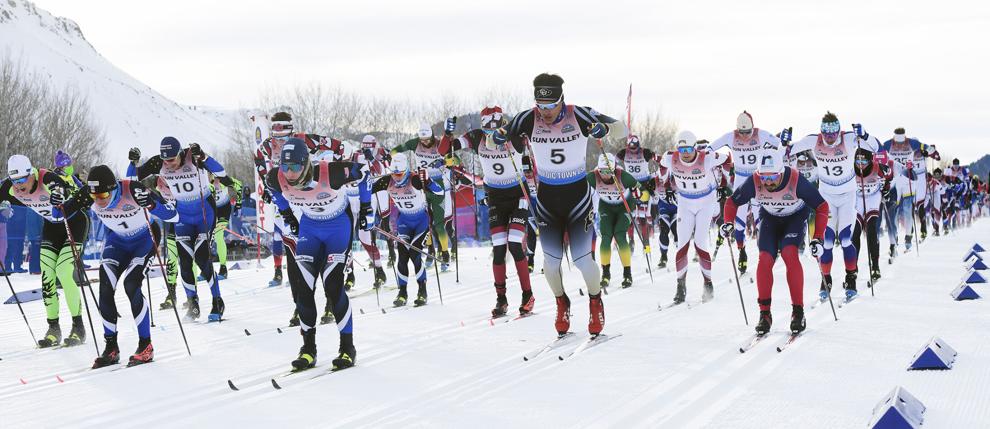 The other top skiers were a pair of gold team members. Peter Holmes, who finished 29th in the men's 10k freestyle on Saturday (28:25.1) and 16th in the men's recurve 15k on Sunday (38:34.7). Karl Schulz, who was fresh off his success at the 2022 LL Bean U.S. National Cross-Country Skiing Championships at Soldier Hollow Nordic Center last week, finished 12th in Saturday's 10k freestyle (27:31.9).
The Sun Valley Invitational was in conjunction with the Intermountain Cross-Country, Rocky Mountain Intermountain Ski Association, and US Ski and Snowboard Super Tour. This event was also an Olympic qualifier for the 2022 Beijing Games.