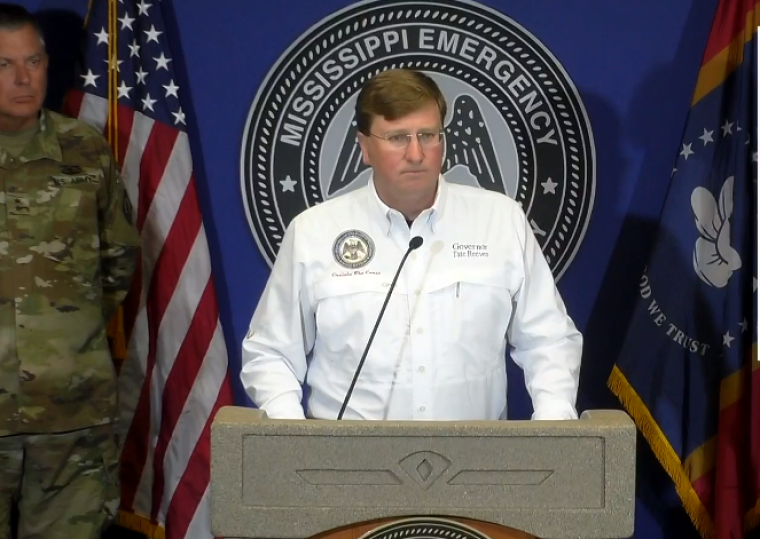 Mississippi Governor Tate Reeves explained on Sunday why he believes the principle of "individual liberty" and bodily autonomy should apply to COVID-19 vaccine mandates but not abortion restrictions.
In a meeting With Chuck Todd on MSNBC's "Meet the Press", the Republican governor was asked how he balances his opposition to vaccination warrants with his support for a controversial Mississippi law restricting abortion after 15 weeks gestation.
Todd released a brief video of Reeves from a previous interview in which he said Mississippians should be allowed "individual liberty and liberty" to decide whether to get vaccinated against COVID-19.
"Liberty and individual liberty. Why should the state of Mississippi tell a woman what to do with her body? Why wouldn't they have this individual freedom over their body, especially in the first 20 weeks? Todd asked.
Reeves responded that those who compare vaccination warrants and abortion laws like Mississippi's "absolutely ignore the fact that in having an abortion there is a real murder of an innocent unborn child who is in. this uterus ".
"Here's what we know about 15 week old babies. We know they have a heartbeat. We know that these babies at 15 weeks can actually open and close their hands. We know they have developing lungs. And we know these babies at 15 weeks can be in pain, "he said.
"The difference between mandatory vaccines and abortions is that vaccines help protect yourself. In fact, abortions do happen and kill other American babies.
Todd rejected Reeves' assessment that vaccines are about protecting yourself, arguing that vaccines involve protecting the community, not just the individual.
"A vaccine is to protect a larger community. A vaccine is used to prevent the spread. You could say that a vaccination mandate is a pro-life position, "retorted Todd.
The governor responded by referring to Dr Anthony Fauci, director of the National Institute of Allergy and Infectious Diseases, who acknowledged that even vaccinated individuals can transmit the coronavirus to others but that the vaccine benefits the individual. by improving its immunity.
"During this very horrible and difficult time since I was sworn in in January 2020, Chuck, we have lost 800,000 American lives due to COVID. And my heart is aching for each of those people who died from COVID, "added Reeves.
"But since [Roe v. Wade] has been adopted, 62 million American babies have been aborted and have therefore been killed. And that's why I think it's very important that people like me and others across this country stand up for these unborn children because they don't have the ability to stand up for themselves.
Reeves' interview on MSNBC comes days before the constitutionality of Mississippi's 15-week abortion ban was debated in the United States Supreme Court.
The high court is planned hear the pleadings in the case of Dobbs v. Jackson Women's Health Organization on Dec. 1, which will focus on whether a state can ban abortion procedures performed before fetal viability, such as the 15-week ban.
State law contradicts the controversial legal precedent of the 1973 Supreme Court ruling Roe vs. Wade, which overturned laws banning abortion before fetal viability was reached.
On Sunday evening, Reeves joined national conservative Christian speakers for a prayer event held at New Horizon Church in Jackson, Mississippi, ahead of Wednesday's oral argument.
"Wednesday morning will hopefully be the start of a new day in our fight to protect the most vulnerable," Reeves said. "There just aren't enough words on the history of this case not just for Mississippi, but for our nation and for the 62 million babies who have been aborted since. Roe vs. Wade was wrongly adopted.
"Now I think too many politicians are afraid to say it, but I'll say it: abortion is barbaric," he continued to cheers and applause. "Abortion is bad. It is probably the greatest evil of our time. Every day in America, thousands of children lose their God-granted inalienable right to life, liberty, and the pursuit of happiness.
Reeves said he did not think it was "unreasonable to believe that laws should be in place to preserve and protect the sanctity of human life."